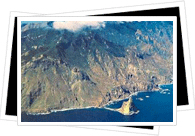 The Anaga Mountains
The spectacular Anaga Mountains are located in the northeast of Tenerife and quite close to the Afur valley. The Anaga Mountains take the prize for the being the oldest part of the island as it was originally the result of volcanic eruptions around 8 million years ago (give or take a millenium). Upon arrival you will soon realise the Anaga Mountains present numerous picture-perfect moments that will not be forgotten any time soon.
The mountains are a task master to say the least and if you hope to be able to get around then you need to prepare your kit, as even getting down Calle Portugal a nearby street is a challenge that feels like a vertical climb! They are quite far away from a majority of the tourist venues so you won't see such a rush of tourists as you would expect but it can work in your favour. Even the most experienced hiker will find this difficult and it is extremely rewarding to complete.
It is a perfect enviroment for the thriving plant- and wildlife that call Anaga its home. There is also a park that resides within its vast climate, called the Parque Rural de Anaga. A pioneering ecological park that plays host to an impressive range of biodiversity created in 1987, the Parque Rural de Anaga is still going strong. If everything so far has caught your attention then consider the hidden beaches and sublime forests for you to find yourself gladly lost in.