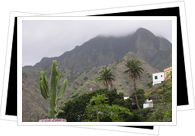 Travel to the beautiful island of La Gomera from Tenerife and experience the best in Spanish rural tourism.
Located only 28 km from Tenerife you can easily travel to La Gomera by ferry in just and hour and a half.
Whilst La Gomera's nightlife does not begin to rival that of Tenerife, it is the perfect escape if you've overdone it on Las Veronicas or just fancy being in some beautiful and truly tranquil surroundings.
The best choice of accommodations are in Playa de Santiago or La Gomera's capital, San Sebastian. The capital is also the best place to hire a car or bike and get exploring the treasures that this captivating island has in store for you.
La Gomera Highlights
The main attraction to the island is the luscious landscapes and stunning scenery all over the island. The nicest way to explore is to cycle around the beautiful palm tree filled valleys and stumble upon glistening ravines and streams - take a picnic and make a day of it.
The Garajonay National Park is La Gomera's most important landmark. Made a national park in 1981 and named a UNESCO World Heritage site in 1986, Garajonay is a truly spectacular area of ecological diversity. It protects an immense area of Laurel forest and also encompasses the volcanic Garajonay Peak which reaches 1487m above sea level. The subtropical climate means that the vegetation remains a rich green colour throughout the year and the temperature is always agreeable.
The park is even more magical due to the misty fog which is a constant feature, hugging the tree tops and giving the whole landscape an otherworldly feel.
Sound like your cup of tea? Why not grab some friends and travel to La Gomera for an unforgettable trip!