Highlights:
ROMERÍA DE SAN ROQUE (San Roque Pilgrimage)
CASTILLO DE SAN MIGUEL (San Miguel Castle)
EL CALETÓN
CONVENTO DE SAN FRANCISCO (San Francisco Convent)
IGLESIA DE SANTA ANA (Santa Ana Church)
MUSEO DE ARTE CONTEMPORÁNEO (Contemporary Art Museum)
PALACIO DEL MARQUÉS DE ADEJE (Palace of the Marquis of Adeje)
PLAZA DE JUAN GONZÁLEZ DE LA TORRE
CONVENTO DE SANTO DOMINGO DE GUZMÁN (Santo Domingo Convent)
ATMOSPHERE
In a Nutshell:
Garachico is, by all definitions of the word, undeniably "cute." With just under 6,000 residents, this quaint seaside town - jutting slightly out into the sea and set at the foot of the often snow-capped peak of Mount Teide - is one of Tenerife's most peaceful, charming and beautiful towns. Founded in 1496, Garachico was actually the first port in Tenerife and thrived as a major commercial hub- that is, until a 1706 volcanic eruption left much of the town beaten and battered. It bounced back, however, and today is essentially a living museum in its maintenance of its cultural and historical character.
Garachico Culture:

Aside from the stunning natural surroundings - Mount Teide, black sand coves, cliffs, verdant hillsides - into which it is nestled, what is it that makes Garachico so appealing? Garachico lives in a constant state of meticulously cared for, postcard-worthy perfection. Convents and noble mansions grace intimate plazas while traditional stucco Canarian houses - in cheerful shades of yellow, white, pink, orange and red - grace clean cobblestone streets, lined with flower pots. In fact, the architecture of historical Garachico has even garnered a Gold Medal for Fine Arts.
In addition to its impeccably conserved architecture, Garachico's cultural scene boasts the celebration of age-old traditions such as folk music, Canarian sports, artisan trades and local festivals. The traditional summer Romería de San Roque, for example, has even been declared a festival of national touristic interest. In addition, Garachico also has two surprisingly good museums - the Museum of Contemporary Art and the Island Museum of Natural Sciences.
Garachico Beaches: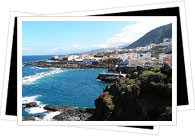 If you need a healthy dose of fun in the sun while you're in town, you can find unique beaches both in and around Garachico. The Garachico region's coastline consists of six kilometers of quiet black sand coves surrounded by spectacular volcanic rock formations; El Muelle, La Caleta de Interian, Las Aguas and San Roque are just a few of the area's best. One of Garachico's most unique features, however, is known as "El Caletón." Located right next to the San Miguel Castle, it consists of a series of natural pools that have formed within the incredible rock formations left behind by volcanic eruptions long ago.
Garachico Tourism: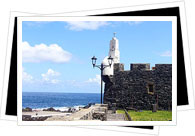 While ambling the streets of Garachico is an experience on its own, the town has a few must-sees that are worth a stop. Pleasant plazas, such as the Plaza de Juan González de la Torre, are great places to soak up the atmosphere as well as get a look at the surrounding architecture.
The Castillo de San Miguel (San Miguel Castle) dates back to 1575, when it was constructed to protect the small town and its valuable assets against the island's frequent pirate attacks. There are many remains of this affluent epoch of Garachico's past and its illustrious families- check out the noble mansion Palacio del Marqués de Adeje, for example.
On the religious end, you are bound to come across beautiful convents and churches. The Convento de Santo Domingo, with its seven upper-level Canarian balconies, was built upon the foundations of an old chapel and now holds the city's Auditorium and the Museum of Contemporary Art. The 16th century Convento de San Francisco boasts spectacular wood-worked Mudéjar ceilings, balconies and even gargoyles.
Stroll across the plaza from the Convento de San Francisco to the 18th century Iglesia de Santa Ana. The charming chruch's elegant façade reflects Renaissance elements but boasts a clear Canarian influence with its crisp, white-washed stucco exterior. Other churches to take a peak at include the Iglesia de Nuestra Señora de los Ángeles and the Ermita de San Roque.