Skydiving in Tenerife: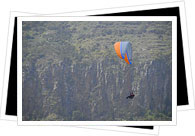 Who wants to lay back and relax on the beach when, instead, you could be plummeting towards earth? While hurling oneself out of an airplane isn't exactly everybody's cup of tea, skydiving is without a doubt the ultimate adrenalin rush for thrill-seekers. Tenerife's main skydiving drop-zone is the Playa de las Vistas, located in the flatter southern portion of the island
Canary Island Air Sports Federation
c/ León y Castillo, 26 - 3º
Las Palmas de Gran Canaria
(Tel) 645 34 97 68
Website: www.fecda.com
Club de Paracaidismo Tinerfeño
(Tenerife Skydiving Club)
Edificio La Guaira
Avda. del Generalísimo, 9
La Candelaria, Tenerife
Aeroclub de Tenerife
(Tenerife Aeroclub)
Aeropuerto Tenerife Norte / North Tenerife Airport
(Tel) 922 63 78 56
Website: ractf.e.telefonica.net
Paragliding in Tenerife
If you want that same unbeatable bird's eye view of Tenerife but without necessarily testing the sheer force of gravity to such an extreme, paragliding may be the perfect option. Offering incredible views, unbeatable weather and those coveted thermal currents, Tenerife is a paragliding paradise.
Below you will find the six most commonly used Tenerife paragliding routes along with a pretty hefty list of paragliding clubs found throughout the island. For more detailed information, contact the Canary Island Federation of Air Sports (FECDA) or check out its website:
Canary Island Air Sports Federation
c/ León y Castillo, 26 - 3º
Las Palmas de Gran Canaria
(Tel) 645 34 97 68
Website: www.fecda.com
Paragliding Routes in Tenerife
Route Izaña
Where: Puerto de la Cruz
Description: Half-hour flight from a height of 2,100 meters over the Orotava Valley and landing in Puerto de la Cruz's Playa Jardín beach.



Route Izaña
Where: Puertito de Güímar
Description: From a height of 2,200 meters, enjoy 13 kilometers of scenery.


Route Tacoronte
Where: Sauzal
Description: Going from El Sauzal to Tacoronte (or vice-versa), this route covers a distance of between five and six kilometers all along the coast.


Route Icod el Alto
Where: Playa del Socorro (Los Realejos)
Description: Starting at an altitude of 800 meters in La Corona, soar over Icod el Alto and Los Realejos before landing in Tigaiga or the El Socorro beach.


Route Taucho
Where: Adeje
Description: With a top to bottom height of 800 meters, this thermal flight route eventually sets down in Adeje. (*Thermal flying involves gaining altitude and extending flight duration by riding natural heat currents rising off the land)


Route Jama
Where: Valle de San Lorenzo
Description: The Jama Route is another thermal flight route, this time with a top to bottom height of 600 meters.
Paragliding Clubs in Tenerife - North Zone
Club de Parapente Norte
Aptdo. Correos, 134
Los Realejos
(Tel) 922 35 92 95


Club de Parapente Tenerife
c/ Cupreso, 4
Santa Ursula
(Tel) 922 30 20 64
Website: www.parapentecanarias.com


Club Libertad-Tacoronte
c/ Pérez Reyes
Tacoronte
(Tel) 922 56 32 51


Club Deportivo Corona del Teide
c/ Obispo Pérez Cáceres, 4 - 1º izq.
La Perdoma (La Orotava)


Club Proscritos
c/ El Juego, 10
La Laguna
(Tel) 922 27 97 81


Club Carbonero
Cmno. del Medio, 124
Los Baldios (La Laguna)
(Tel) 922 28 51 66


Club de Parapente Alisios
Aptdo. Correos, 1207
Tacoronte
(Tel) 922 25 70 76


Club de Parapente Atlántida
c/ Jorge Manrique, 1 - 4º
Santa Cruz
(Tel) 922 29 13 06
Paragliding Clubs in Tenerife - South Zone
Parapente Club del Sur
Edif. Esmeralda, 39
Adeje
(Tel) 922 78 13 57


Club de Parapente Izaña
Aptdo. Correos, 198
Güímar
(Tel) 619 07 32 10
Website: www.clubparapenteizana.com


Parapente Tenerife
c/ Domingo Pérez Cáceres, 15
Güímar
(Tel) 922 52 42 63


Club de Parapente Jama
Aptdo. Correos, 23
Arona
(Tel) 922 78 62 58


Club K-2
c/ La Flora, 21
Arafo
(Tel) 922 77 14 09