When you've seen everything Tenerife has to offer why not travel to La Palma? Located only 85km from Tenerife and easily accesible by plane or boat it makes the perfect getaway.
Also referred to as the 'Isla Bonita' (beautiful island) or the 'Isla Verde' (green island), La Palma is abundant is lush vegetation and the emerald green landscapes and volcanic peaks are the island's defining features.
La Palma Highlights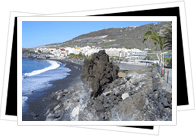 Santa Cruz de la Palma - La Palma's lively capital city is the perfect place to start your exploration of the island. The city is full of life and has a wide range of accommodation to suit all budgets. Santa Cruz is also a beautifully maintained city with a huge amount of traditional charm. A walk round the historic center will allow you to fall in love with numerous colonial buildings, pretty churches and the little wooden Canarian houses, extremely characteristic of the islands. The Plaza de España is a good place to start your exploration of the city. When you've done with wandering around chill out in the sun on Santa Cruz's very own beach - El Chaco Verde.
Parque Nacional Caldera de Taburiente - This spectacular National Park is the best place to enjoy what La Palma has to offer. In addition to an interesting variety of flora and fauna you can visit the world's largest erosion crater. The Caldera de Taburiente, literally 'Taburiente Cauldren' is an incomparable sight. The sheer size of this volcanic crater is mindblowing, measuring 10km across and 1.5km deep. Next to the crater is the island's highest peak, the Roque de los Muchachos, which towers up to 2426 metres above sea level and offers some of the most incredible vistas of the island and surrounding waters.
Parque Nacional Cumbre Vieja - This extraordinary area of natural beauty was opened in 1987 and actually encompasses the Caldera de Taburiente National Park as well. The area protects vast pine and laurisilva forests as well as the famous Cumbre Vieja. This string of volcanoes is still active although it has been over half a century since the last eruption which caused a 2km long opening along the summit, which today offers fantastic views. The main trail which takes in these volcanoes is a tough and testing climb, but well worth the effort.
Los Cancajos y Fuencaliente de la Palma - If you are looking for beautiful beaches, these are some of La Palma's best with crystal waters surrounded by beautiful landscapes and dark volcanic sand characteristic of the Canary Islands.