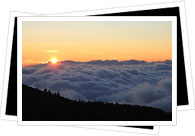 Internationally known as the reigning "island of eternal spring," any time of year is the perfect time of year for a trip to Tenerife. Tenerife weather is smooth and mild, never hitting temperatures of intense cold nor of suffocating heat.
Tenerife geographical location puts it right in the middle of the transition area between the subtropical and temperate zones. The island enjoys a year-round average (for the entire island) of 23ºC (73ºF) and benefits from the so-called Canaries cold-stream, which aside from a milding effect on the climate also causes those refreshing trade winds that surfers and seafarers so adore.
Tenerife is by no means a large island, yet the variety of microclimates found within such short distances of each other is surprising to say the least. The southern end of the island, for example, is known for streches of flat beaches and a drier, hotter year-round climate. The northern end, on the other hand, has rugged coastlines, lush banana plantations and a slightly cooler, more humid climate. The interior of the island, which culminates in the soaring and often snow-capped peak of Mount Teide, the dormant volcano credited with the island's creation as well as its volcanic black sand beaches, is even cooler.