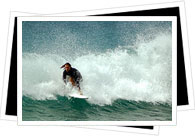 Whether you're a veritable wave-busting phenomenon or an interested surfer-in-training, Tenerife's unbeatable surfing conditions make the island ideal for challenge-seekers of all levels. There are surfing and wind surfing havens along the entire Tenerife coastline- so grab your board and hit the waves!
Surfing & Wind Surfing
What is it that makes Tenerife such a top-notch place to "hang ten?" Tenerife benefits from the swells produced by the Atlantic ocean along with the volcanic steps and reefs leading up to the island's very shores. The cherry on top of the surfing sundae comes in the form of the so-called "Canary cold-stream," which has not only a milding effect on the local climate but also provides refreshing moderate to strong trade winds. These year-round winds which pick up during summer - Tenerife's peak surfing and wind surfing season - are a surfer or wind surfer's dream!
Part-surfing and part-sailing, wind surfing is an increasingly popular water sport in which the surfer uses a wind surf board powered by a single sail. As is the case with surfing, Tenerife has stellar windsurfing zones all along its coastline. Plus, with Tenerife's trusty trade winds, the island is famous amongst wind surf enthusiasts and yet is ideal for those interested in trying it out for the first time. The three best wind surfing zones are El Medano, El Cabezo and La Jaquita, all of which have hosted various World Cup Gran Slam international windsurfing events.
Surfing & Wind Surfing Courses & Rentals
If you're in need of equipment rental or some fundamental know-how windsurfing guidance, fret not! There are surfing and wind surfing schools and companies dispersed throughout Tenerife; here are a few - listed by area in which you can find them - to get you started:
COSTA ADEJE - PLAYA DE LAS AMÉRICAS - LOS CRISTIANOS
Playa del Bobo
Near Puerto Colón Marina
Courses & Rentals
Playas de Troja
Opposite Palm Beach Club
Rentals
Escuela de Vela
Paseo Marítimo
Los Cristianos
(Tel) 610 80 12 00
Courses & Rentals
EL MÉDANO
Surf Center
Hotel Playa Sur Tenerife
c/ Los Valos
El Médano
(Tel) 922 17 60 13
Website: surfcenter.el-medano.com
Offers: Surfing & Wind Surfing Courses & Rentals
Fun Factory
Hotel Calimera Atlantic Playa
Avda. Europa, 2
(Tel) 922 17 62 73
Website: fanatic.el-medano.com
Offers: Surfing, Wind Surfing, Kite Surfing Courses & Rentals
Azul Kitesurf Center
Paseo Mercedes de Roja, 26
Edificio el Toscón, 4
El Médano
(Tel) 922 17 83 14
Website: www.azulkiteboarding.com
Offers: Kite Surfing Courses & Rentals
Kitesurf Center
Edificio El Toscón
Paseo Nuestra Señora de Mercedes de Roja, 26
El Médano
(Tel) 922 17 73 92
Offers: Wind Surfing & Kite Surfing Courses & Rentals
Hotel Wind Surf
Avda. Islas Canarias
Playa de la Jaquita (Playa de El Cabezo)
(Tel) 922 17 62 40
Offers: Wind Surfing Courses & Rentals
COSTA DEL SILENCIO
La Ballena
(Tel) 922 73 00 60
Offers: Wind Surfing Courses & Rentals
SANTA CRUZ
Centro Insular de Deportes Marinos de Tenerife (CIDEMAT)
Carretera a San Andrés - Valleseco
Santa Cruz
(Tel) 922 59 75 25
Website: www.deportestenerife.net/cidemat/index.php
Offers: Wind Surfing Courses & Rentals