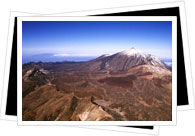 1. Mount Teide National Park
As Tenerife's soaring centerpiece, the often snow-capped peak of Mount Teide is visible from practically everywhere on the island. Much more than trees and hiking trails, Spain's highest mountain - along with the unspoiled wilderness and funky volcanic rock formations surrounding it - compose the largest national park in the Canary Islands. Find out more on Mount Teide National Park...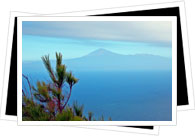 2. Weather
Everything you need to know about Tenerife's weather is summed up in the island's nickname: the island of eternal spring. With practically 365 day a year of sunshine, refreshing trade winds and heavenly temperatures, any time of year is literally the perfect time of year for a trip to Tenerife. Click on the link for the Tenerife weather basics.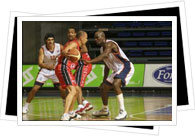 3. Traditional Sports
Sure, Tenerife rallies behind its football and basketball teams like any other Spanish destination, but in addition the island has a special something that mainland Spain doesn't have: traditional Canary Island sports. With their roots planted in the islands' ancient Guanche culture, sports like Canarian wrestling, staff-fighting and shepherd's leap are hugely popular and comprise an important part of Tenerife's culture. Get more info about autochtonous Canary Island sports...
4. History
One of the best part of Tenerife's history is that it reads absolutely nothing like that of the rest of Spain. Instead of the typical story of Romans, Moors and finally Christians, Tenerife's earliest history is a combination of mysterious legends, ancient myths and indigenous Guanche people. Its "Spanish" history didn't begin until the 15th century Spanish conquest, which led to the island's colonization and overnight success as the meeting point of Europe, Africa and the Americas. Learn all about Tenerife history...
5. Architecture
With airy balconies and intimate patios laden with flower pots, Canarian architecture is literally its own genre. What Canarian architects essentially did over the course of time is filter in elements of Europe's major architectural trends, but not without throwing in their own island tastes. The results? Check out the immaculately conserved historical quarters of cities like Garachico, La Orotava and La Laguna, where elegant churches, quaint white-washed houses and noble mansions will leave you enchanted. Learn more about Tenerife architecture...
6. Carnival
The tropical music, the elaborate costumes, the parades, the mildly chaotic street parties... Tenerife's rowdy Carnival easily goes head to head with Brazil's for the title of best Carnival in the world. The festivities kick into high gear just before Lent (February or March) and show no signs of slowing down until over a week later- so grab your mask and be prepared for the biggest party of your life! Get all the essentials on Tenerife's Carnival...
7. Parque Loro
Sure, it's one of the most touristy things you could possibly do, but you really will have an absolutely blast at this zoological theme park. With incredibly recreated jungles and animal habitats, it boasts pretty much the biggest and best of everything: the biggest dolphinarium in the world, the largest collection of parrots, one of the most modern aquariums, the list goes on. Definitely check out the penguin exhibit "Planet Penguin," a massive sub-zero indoor habitat with a colossal snow-covered rock and crystal-clear sea water. Get all the details on Parque Loro and other Tenerife theme and water parks...
8. Outdoor Activities
With incredible landscapes, enormous mountains, pine forests, endless beaches, plunging cliffs and, of course, the ocean, the entire island of Tenerife is practically one big outdoor playground. Head out to sea to check out the colony of hundreds of pilot whales off the coast, explore the submerged unknown with a scuba-diving adventure, hike your way around the Mount Teide National Park, horse-back ride through the wilderness of La Orotava, jump out of a plane for the ultimate adrenalin rush... all of this and more!
9. Travel to other islands
While Tenerife's location off the coast of Africa isn't exactly ideal for travel to mainland Spain destinations, Tenerife is not an island by itself- it's part of a seven-island archipelago. Each island offers a unique and brand-new experience, so climb aboard a ferry and island-hop your way through Tenerife's neighbors! Learn more about trips from Tenerife...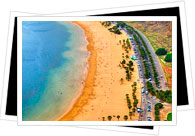 10. Beaches
With paradisaical weather and nearly 270 kilometers of coastline to its name, Tenerife is a beach-lovers paradise and has a beach for all tastes: soft white sand, volcanic black sand, massive stretches, secluded coves, with clothes, without clothes... trust us, the list is endless. Click on the link to check out our page on Tenerife beaches!