Highlights:
LAGO MARTIÁNEZ (Martiánez Lake)
PASEO DE SAN TELMO (San Telmo Promenade)
JARDINES BOTÁNICOS (Botanical Gardens)
CASTILLO SAN FELIPE (San Felipe Castle)
MUSEO ARQUEOLÓGICO (Archaeological Museum)
AMBIENTE (Atmosphere)
LORO PARQUE (Loro Park)
PLAYA JARDÍN (Jardín Beach)
PLAZA DEL CHARCO
CASA DE LA ADUANA (Customs House)
IGLESIA (Church) DE NUESTRA SEÑORA DE LA PEÑA DE FRANCIA
IGLESIA (Church) DE SAN FRANCISCO Y SAN JUAN BAUTISTA
FIESTA DE LA VIRGEN DEL CARMEN (Virgin of the Carmen Festival)
ARQUITECTURA (Architecture)
In a Nutshell:
Year after year, this small city of roughly 30,000 habitants is a favorite amongst Tenerife's visitors; yet the influx of tourism has not chipped away at Puerto de la Cruz's easy-going, small town personality. Its port village heritage is still easily seen in the little blue and white fishing boats bobbing in the sea as well as in the traditional Canarian aesthetic - colorful stucco homes, vibrant potted flowers, airy balconies - gracing its picturesque streets.
Situated along Tenerife's fascinating northern coastline and at the foot of Mount Teide, Puerto de la Cruz's natural environs - rolling hills, natural parks and banana plantations - provide the stunning backdrop to this unique urban gem. Puerto de la Cruz was declared a city of Tourist Interest back in 1955, and with one visit to this traditional yet modern town you'll see why.
Puerto de la Cruz Culture:

Puerto de la Cruz's vibrant cultural scene is an interwoven blend of age-old traditions and modern attitudes. Setting the stage is the traditional architecture enriching the town's steep streets with colorful houses, traditional balconies and elegant chapels. Cultural hot spots integrate perfectly into the city scape, where you'll find museums (Museo Arqueológico, Casa de la Aduana ), music venues (Auditorio Parque San Francisco), art galleries (Sala de Arte Cajacanarias) and more.
In terms of celebrations, Puerto de la Cruz hosts a mishmash of festivals ranging from the traditional to the artsy. Head to the beach for the bonfires of the Fiesta de San Juan, test out the new wines during the Fiesta de San Andrés or soak in the atmosphere of Semana Santa (Holy Week) as beautiful processions pass through the streets to the beat of soulful music. The most famous, however, is the Festival of the Virgin of the Carmen, which celebrates the patron saint of fishermen and sailors through fireworks, parades and even a maritime procession.
Puerto de la Cruz shows its artistic side with a wide range of annual arts festivals showcasing anything from visual arts (Mueca, Certamen de Arte Joven), to Baroque music (Festival de Música Antigua y Barroca), story-telling (Encuentro de Narración Oral Escénica), puppet theater (Festival Internacional de Títeres "Teatrapo") and rock music (Festival Croma).
Puerto de la Cruz Beaches: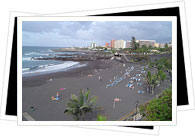 There's no better way to relax in Puerto de la Cruz than claiming a patch of beach, setting down your towel and soaking up that warm Tenerife sunshine. The beaches in and around Puerto de la Cruz are typical of the island's more rugged northern coast- rocky coves, black volcanic sand, etc. - and are great for all those fun water activities like jet-skiing and scuba diving.
Puerto de la Cruz's beach scene does have a few highlights. Puerto de la Cruz's two most popular beaches are Playa Martiánez and Playa Jardín. Playa Jardín, designed and landscaped by Lanzarote native César Manrique, features tropical gardens, volcanic rocks and tiny cafés around the edge. Following the same idea is the nearby Lago Martiánez, also designed by César Manrique. The nature-themed complex overlooks the coast and includes salt water pools, fountains, waterfalls, tropical gardens and terrace café. Other beaches in the area include the smaller coves of Playa Muelle and Playa San Telmo.
Puerto de la Cruz Tourism: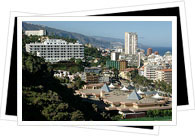 It may be a small town, but if you're looking to throw a little Puerto de la Cruz tourism into your beach days, there's no lack of things to see and experience. The town is chock-full of beautiful squares, but a good place to start out is the atmospheric Plaza del Charco. The lush, tree-lined plaza is situated right smack in the middle of the city and is a favorite place for people of all walks of life to stroll or kick back and relax.
Other stroll-friendly parts of town include the incredible 18th century Botanical Gardens, a veritable jungle of dragon trees, ficus trees and tropical plants from all over the world, and the Paseo de San Telmo, a pedestrian promenade running along the shore.
If you follow the Paseo de San Telmo you will eventually coem across the quaint and similarly named Ermita de San Telmo, a traditional Canarian church dating back to 1870. Other ecclesiastical buildings around town include the 16th century churches Iglesia de San Francisco y San Juan Bautista - declared a Historical and Artistic Monument- and the 16th century Ermita de San Amaro.
The religious stand-out, however, is the 17th century Iglesia de Nuestra Señora de la Peña de Francia. Along with impeccable architecture, it features incredible coffered Mudéjar-style ceilings, beautiful artwork and its emblematic tower - once the highest point of the city and one of the beloved symbols of Puerto de la Cruz.
As an evidently affluent port town, Puerto de la Cruz fell victim several times to pirate attacks- that is, until the construction of the Castillo San Felipe. The 17th century castle kept the town safe and now serves as a cultural space for expositions, concerts and other cultural events.
Outside of the city awaits another world of touristic interest. Puerto de la Cruz serves as the perfect base for exploring the La Orotava region and the Mount Teide National Park. Also nearby is Loro Parque, a zoological theme park featuring the world's largest dolphinarium, immaculately recreated jungles and a penguin exhibit that is out of this world.