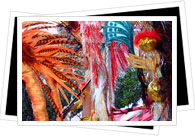 While Tenerife's art, music and film festivals are at the top of their game, the island's popular festivals maintain a traditional, folk and even rural vibe. For example, one of the most popular ways to honor the various patron saints is with what is called a "romería," a colorful pilgrimage of sorts featuring oxen-drawn carts, folk music, and traditional Canarian attire.
As you'll see, a pretty hefty chunk of Tenerife's cultural agenda consists of festivals linked to the Catholic calendar- Christmas, Easter, Corpus Christi, towns' patron saints' days, etc. However, since the religious connotations for many of these festivals were added as an afterthought to formerly pagan celebrations -the Tenerife Carnival, for example-, these local religious festivals double as a showcase of typical Canarian culture- clothes, music, dance, traditions, superstitions and so forth.
Obviously we can't list every single Tenerife festival here- we'd end up with a book the size of Don Quijote! Read on, however, to get the scoop on some of Tenerife's more popular festivals below.
Reyes Magos & Epifanía
(Three Kings & Epiphany)
When: January 5 - 6
Where: Throughout Tenerife
The Three Kings are to Spanish children what Santa Claus is to their American counterparts. In Santa Cruz, Tenerife's capital, the holy monarchs arrive via helicopter to the CD Tenerife's football stadium before setting off on camels as part of a festive parade. After the colorful excitement of the evening, children head home to an early bedtime and await the following morning, when they discover the begging-to-be-opened presents left by the Three Kings.

Fiesta de San Antonio Abad
(Festival of Saint Antonio Abad)
When: January
Where: Arona
The celebration of the feast day of Saint Antonio Abad, the patron saint of Arona, is an occasion for the Canarian culture to really shine in this appropriately sunny southern town. With various rural activities, performing folk groups and traditional dance, music and dress, it's definitely worth checking out.

Carnaval
(Carnival)
When: February / March
Where: Santa Cruz
Learn all about the costumed craze on our Carnival of Tenerife page!
Semana Santa & Pascua
(Holy Week & Easter)
When: March / April
Where: Throughout the island, but some of most significant celebrations are in Santa Cruz, Puerto de la Cruz, La Orotava, Garachico and especially La Laguna
Holy Week is a pretty big deal throughout Spain, and Tenerife is no exception. Head to the city's more historical towns to see beautiful processions featuring adorned religious floats, robed penitents and soulful music pass through the cobbled streets of cities' historical quarters each day. Tenerife's most impressive Holy Week celebrations are possibly the ones held in La Laguna, considered Tenerife's cultural and religious center, where the Holy Burial Procession and Silent Procession are the highlights.
Romería de San Marcos
(Pilgrimage of Saint Marcos)
When: April
Where: Tegueste
The Romería de San Marcos in Tegueste is a popular pilgimage honoring Saint Marcos. On the eve of the pilgrimage, the town gears up for a so-called "Islands Festival." Aimed at conserving and promoting age-old Canarian traditions, it's a great opportunity to get your fill of time-honored activities, Canarian dress and the music and dance of traditional folk groups.
Romería de la Virgen de Fátima
(Pilgrimage of the Virgin of Fátima)
When: May
Where: Valle de San Lorenzo
You guessed it, yet another traditional pilgrimage! Following the traditional romería, the image of the Virgin of Fátima is processed to the Mirador (viewpoint) de la Centinela, accompanied by adorned carts and folk groups that get the town into the mood with traditional Canarian clothing, singing and dancing.
Fiestas de la Cruz
(Festivals of the Cross)
When: May
Where: Throughout the island, especially Santa Cruz, Puerto de la Cruz, Los Realejos
Easily one of the most breathtaking festivals in Tenerife, the Fiestas de la Cruz vary from town to town. For example, along with Canarian traditions, activities and the magnificently decorated crosses adorned with beautiful regional blossoms, Santa Cruz throws costume parties into the mix while Puerto de la Cruz and Los Realejos add in processions and fireworks.
Corpus Christi
When: June
Where: Throughout the island, but the best is in La Orotava
Corpus Christi, like Holy Week, is a festival taking place throughout Spain. Commemorating the institution of the Eucharist centuries ago, head to La Orotava for Tenerife's most dazzling Corpus Christi festival. Intensely colorful carpets of flowers are set out in the streets to mark the procession route, and in the Plaza del Ayuntamiento (Town Hall Square), an amazing tapestry depicting Biblical scenes is crafted entirely of the distinctive volcanic sands from Mount Teide's surroundings.

Fiestas de San Telmo
(Festival of Saint Telmo)
When: Second week of June
Where: Puerto de la Cruz
Held in Puerto de la Cruz, the highlights of this traditional summer festival honoring Saint Telmo include street entertainment and parties on the appropriately named beach of San Telmo.
Fiesta de San Juan
(Festival of Saint Juan)
When: June 24
Where: Puerto de la Cruz
Yet another festival celebrated along Puerto de la Cruz's beaches is the Fiesta de San Juan, which despite its dedication to Saint Juan actually began as a Guanche celebration of the summer solstice. Ethnic, national and international musical performances set the tone, bonfires lining the Playa Jardin and Punta Brava beaches light up the night and comes to an end at daybreak with the traditional ritual of purification known as the "bath of goats," when you take a quick dip in the warm sea.

Virgen del Carmen
(Virgin of the Carmen)
When: July
Where: Towns along the coast, especially Puerto de la Cruz
A traditional festival celebrated in Tenerife's many traditional fishing villages, this celebration of the patron saint of fishermen is best seen in Puerto de la Cruz, where it involves fireworks displays and the procession of the virgin through the streets and into a decorated boat, where the procession continues as a maritime procession.

Romería de San Agustín
(Pilgrimage of Saint Agustín)
When: Second Saturday of August
Where: Arafo
Aside from the colorful pilgrimage itself, the highlights of this traditional Arafo romería - declared a festival of National Tourist Interest - include a regional showcase of traditional music groups.
Fiestas de la Virgen de Candelaria
(Festival of the Virgin of Candelaria)
When: August 14 - 15
Where: La Candelaria
Yet another Tenerife festival declared to be of National Tourist Interest, the Fiestas de la Virgen de Candelaria is an extremely popular fesival on the island. Not only is the Virgin of Candelaria the patron saint of the Canary Islands, but she also lends her name to the city of La Candelaria- not surprisingly, this is the best place to enjoy the festival. Pilgrims from all over the island make their way to La Candelaria to attend this tribute to the virgin. Along with various masses and procession there is a floral offering, folklore groups and even a play representing the apparition of the virgin to the Guanches.
Romería de San Roque
(Pilgrimage of Saint Roque)
When: August 16
Where: Garachico
Garachico's Romería de San Roque, another Tenerife festival of National Tourist Interest, is one of the most popular festivals on the island. Held annually since the 17th century, the image of the saint is accompanied on his pilgrimage to his church by an entourage consisting of throngs of traditionally dressed people, decorated carts, music bands or "rondallas" and herds of animals.
Romería de Nuestra Señora del Socorro
(Pilgrimage of Our Lady of Help)
When: September 7
Where: Güímar
Güímar's oldest festival, the Romería de Nuestra Señora del Socorro, starts of with the pilgrimage at daybreak between the churches Iglesida de San Pedro and Iglesia del Socorro. After the traditional romería of followers, carts and music bands, there is an afternoon ceremony to commemorate the alleged apparition of the virgin to the Guanches.
Fiestas del Santo Cristo
(Festival of the Saint Christ)
When: September 14
Where: La Laguna
To celebrate the Saint Christ, one of the island's most venerated icons, the Fiestas del Santo Cristo feature everything from military parades to religious processions, fireworks and numerous "ventorrillos"- traditional outdoor cafés set up in the Plaza del Cristo that serve up traditional Canarian food and drink.

Fiesta de San Andrés
(Festival of Saint Andrés)
When: November 29
Where: Puerto de la Cruz, La Orotava, Icod de los Vinos
Your palate is in for a real treat during the Fiesta de San Andrés. Traditionally, it is a day in which wine cellars are opened up and new wine is tasted. In Puerto de la Cruz and La Orotava, teenagers run noisily around the city banging pots and pans or dragging strings of tin cans, while in Icod de los Vinos youngsters engage in what looks like urban sledding as they slide down the town's steep streets on greased wooden boards.
Nochebuena & Navidad
(Christmas Eve & Christmas)
Christmas
When: December
Where: Throughout the island
Christmas time in Spain is traditionally a very family-oriented epoch of the year consisting of large gatherings and dinners with absorbant amounts of food and drink. On Nochebuena (Christmas Eve), after one of these such meals, families often head to midnight mass, known as the "Misa del Gallo." In many parts of Tenerife, this Christmas mass is followed by a dance called the Baile del Niño (Dance of the Child). Marking the birth of Jesus, groups dressed in traditional attire dance before the image of the baby to the rhythm of music played with traditional instruments.
In Tigaiga, near Los Realejos, the community transforms the small town into a recreation of the various places where Jesus' life took place, while Santa Cruz gets in the mood with lights and garland, nativity scene competitions, holiday markets and, on Christmas day, an open-air concert featuring the Tenerife Symphony Orchestra.
Nochevieja
(New Year's Eve)
When: December 31 / January 1
Where: Throughout the island, but bigger celebrations in bigger cities like Santa Cruz, Puerto de la Cruz, La Laguna
After a traditional family dinner, young people typically hit the streets to ring in the New Year. The year-round mild weather provides the perfect climate for fireworks displays and street parties before hitting up bars and clubs (in the larger towns).