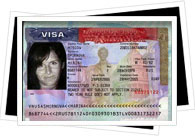 Spain forms part of the European Union; in other words, it is a member of the Schengen Convention. Any legal resident from a Schengen country, plus citizens of the UK, Ireland, Iceland & Norway, do not need a visa to enter the country. The pre-2004 Schengen members are: Austria, Belgium, Denmark, Finland, France, Germany, Greece, Italy, Luxembourg, the Netherlands, Portugal, Spain and Sweden.
The countries integrated in 2004 - Cyprus, the Czech Republic, Estonia, Hungary, Latvia, Lithuania, Malta, Poland, Slovakia and Slovenia - do not need tourist or residence visas to enter the country but will not have the full rights of other EU citizens for the next 7 years or so.
Citizens of many other countries do not need a visa to enter for a stay of less than 90 days: Australia, Canada, Israel, Japan, New Zealand and the US are among them. If you are planning on staying for longer than 90 days, you must check with the Spanish consulate nearest you.
Student visas are not all that difficult to obtain, as long as your program provides you with the necessary paperwork. Even in this case, however, you can plan on the process taking at least a month. (Spanish bureaucracy can be frustrating, to say the least). In order to work in Spain it is necessary to have an official offer from a company in Spain. These types of visas are not easy to get for non-EU citizens.
Any member of a country not mentioned above should check their local consulate for visa requirements.
Most countries' Spanish embassies are located in Madrid, which is easily reachable via airplane from the Canary Islands. However, most countries conveniently also have a consulate in the Canary Islands. You'll find the majority of these consulates located in the city of Las Palmas on the island of Gran Canaria, although many countries have an additional consulate in Tenerife. Below you'll find an abbreviated list of the numerous consulates found in the Canary Islands. Again, this is a shortened list, therefore if your country isn't listed, don't panic- chances are that your country does in fact have a consulate in the Canary Islands.
Country

Address / Telephone
Gran Canaria
Address / Telephone
Tenerife

Austria

Avda. de Gran Canaria, 2
San Bartolomé de Tirajana
(Tel) 928 76 25 00
c/ Villalva Hervás, 9 - 5º
Santa Cruz
(Tel) 922 24 37 99

Brazil

c/ Nicolás Estévanez, 18
Las Palmas
(Tel) 928 27 75 34
c/ Castillo, 56 - 3º
Santa Cruz
(Tel) 922 28 65 12

Chile

c/ Dolores de la Rocha, 28
Las Palmas
(Tel) 928 31 93 91
c/ Álvarez de Lugo, 10
Santa Cruz
(Tel) 922 28 69 50

Cuba

c/ León y Castillo, 247
Las Palmas
(Tel) 928 24 46 42

France


c/ Néstor de la Torre, 12 - 1º
Las Palmas
(Tel) 922 29 23 7
c/ José María de Villa, 1
Santa Cruz
(Tel) 922 23 25 17

Germany

c/ José Franchy y Roca, 5 - 2º
Las Palmas
(Tel) 928 26 27 31
Avda. Francisco la Roche
Santa Cruz
(Tel) 922 28 48 12

India


c/ Bethencourt Alfonso, 23 - 2º
Santa Cruz
(Tel) 922 24 14 16

Ireland


c/ Castillo, 8 - 4º
Santa Cruz
(Tel) 922 24 56 71

Italy


c/ León y Castillo, 281 - ático
Las Palmas
(Tel) 928 24 19 11
c/ Pilar, 27
Santa Cruz
(Tel) 922 27 57 09


Japan


c/ Santiago Rusiñol, 12
Las Palmas
(Tel) 928 24 40 12

Mexico



Plazoleta Ruiz de Padrón, 2 - 2º
Santa Cruz
(Tel) 922 29 25 05

Morocco


Avda. José Mesa y López, 8 - 2º
Las Palmas
(Tel) 928 26 28 59


Norway


Plaza Ingeniero Manuel Becerra, 1
Las Palmas
(Tel) 928 49 50 35
Avda. de Anaga, 45 - 2º
Santa Cruz
(Tel) 922 28 73 51

Portugal



c/ Presidente ALvear, 52 - 1º
Las Palmas
(Tel) 922 23 72 50

Sweden


c/ Luís Morote, 6 - 4º
Las Palmas
(Tel) 928 26 17 51

Switzerland


c/ Domingo Rivero, 2
Las Palmas
(Tel) 928 29 34 50

United Kingdom


c/ Luís Morote, 6 - 3º
Las Palmas
(Tel) 928 26 25 08
Plaza Weyler, 8 - 1º
Santa Cruz
(Tel) 922 28 68 63

United States


c/ Martínez de Escobar, 3
Las Palmas
(Tel) 928 22 25 52