-CONCERT VENUES-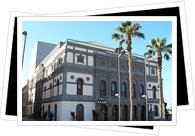 As far as music venues go, the jaw-dropping Auditorio de Tenerife, one of the islands most emblematic buildings, is the venue par excellence. Designed by famous architect Santiago Calatrava (he of Valencia's City of Arts and Sciences, Athens' Olympic Stadium and Barcelona's tele-communications tower), the brilliantly white, ultra-modern structure is perched upon Santa Cruz's coast and looks - quite appropriately - like a cresting wave. Not only is the Auditorio de Tenerife home to the Tenerife Symphony Orchestra, one of the best orchestras in Spain, but it also hosts a wide range of concerts, operas and other cultural activities.
Auditorio de Tenerife
Avda. Constitución, 1
Santa Cruz
(Tel) 922 56 86 00
(Tel) 902 31 73 27 for tickets
Website: www.auditoriodetenerife.com
Cajacanarias Centro Cultural
Plaza del Patriotismo, 1
Santa Cruz
(Tel) 922 47 10 00
Website: www.cajacanarias.com/obsf/
Auditorio "Parque San Francisco"
c/ Agustín de Bethencourt
Puerto de la Cruz
(Tel) 922 38 36 20
Auditorio Teobaldo Power
c/ Calvario
La Orotava
(Tel) 922 33 02 24

-THEATER VENUES-
As fans of the dramatic arts, it's only natural that Tenerife is brimming with theaters. From the Guimerá Theater, the oldest in all of the Canary Islands, to La Laguna's eclectically designed Teatro Leal, the brand-new Teatro Victoria and a wide range of small local theaters, there are tons of places to see a wide range of theatrical, dance and music performances.
Guimerá Theater
Plaza Isla de la Madera, 2
Santa Cruz
(Tel) 902 36 46 03 information
(Tel) 922 53 11 75 tickets
Website: www.teatroguimera.es
Cajacanarias Centro Cultural
Plaza del Patriotismo, 1
Santa Cruz
(Tel) 922 47 10 00
Website: www.cajacanarias.com/obsf/
Teatro Victoria
c/ Méndez Nuñez, 36
Santa Cruz
(Tel) 922 29 05 78
Website: www.elteatrovictoria.com
Teatro Chico Municipal
c/ Almirante Diaz Pimienta, 1
Santa Cruz
(Tel) 922 42 00 07
Teatro Leal
c/ Obispo Rey Redondo, 24
La Laguna
(Tel) 922 60 11 00
Ateneo de La Laguna
Plaza de la Catedral, 3
La Laguna
(Tel) 922 25 98 22
Teatro Pérez Minik
Parque Cultural Viera y Clavijo
Avenida Asuncionistas, s/n
Santa Cruz
(Tel) 922 29 09 11