Travel to Lanzarote from Tenerife! Whilst exploring the Canaries why not visit Lanzarote, one of the most lively and beautiful of all the islands.
Despite being a volcanic island, Lanzarote has in abundance what many of the other islands lack - white sand beaches. This makes Lanzarote the perfect place to kick back, relax by the sea and enjoy the perfect weather conditions at any time of year.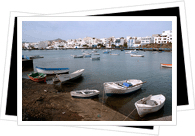 Lanzarote Highlights
Beaches - Many people visit Lanzarote purely to make the most of the picture perfect coastline which runs for 250km around the island. Whilst Lanzarote does have a large selection of beach resorts to choose from, they are not your stereotypical highrise blocks which make a mess of the skyline. Instead, developers in Lanzarote have to follow strict guidelines and only construct buildings which do not interfere with the landscape. With this in mind, even at the most popular resorts you are guaranteed to find aesthetic harmony between modern architecture and natural beauty.
Puerto del Carmen, Costa Teguise and Playa Blanca are some of the busiest resorts and have a lot to offer in the way of facilities, restaurants and nightlife, however, do not head here if you are looking for an isolated retreat!
Just down from Playa Blanca is the far more peaceful Papagayo which makes a better choice if you want to escape the hoards of tourists, as does Famara.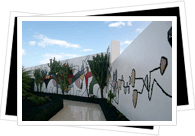 César Manrique - Although Lanzarote's most famous artist is no longer alive, his experimental and innovative take on art, design and its relation to nature can still be admired and pondered over all around the island.
Jameos de Agua - A visit to this extraordinary place certainly won't be forgotten in a hurry. After Volcano La Corona erupted it left behind it a 6km long tunnel formed by the force of the lava flow. Following César Manrique's artistic vision, this spectacular piece of nature's artwork has carefully been transformed into a functional haven for human usage. The caves can be entered via the Jameo Chico where you will find a bar and restaurant. Carrying on, you enter the Jameo Grande which leads on to a beautiful sparkling blue pool surrounded by palm trees. There is also an auditorium which makes an enchanting setting to catch a performance.
Mirador del Río - Buried beneath these rocks that were once used as battery cannons in the war between Spain and the US over Cuba you can now find a place of peace and tranquility. César Manrique carefully constructed a restaurant and mirador here where the incredible views over the island and sea can be admired in all their glory. Through careful design and construction, Manrique placed transparent domes in the rocks and then covered the tops up so that they do not spoil the view. The result is a fantastic piece of architecture which blends seamlessly with nature and proves that tourism need not be an eyesore.
Parque Nacional Timanfaya - Encompassing an entire quarter of the island, this National Park is a well worth dedicating some time to exploring. The park protects an area of the island that was completely devastated by over 100 volcanic eruptions which last occurred in 1824. The otherworldly landscape left behind is known as the 'Mountains of Fire' (Montañas del Fuego) - a string of dark and completely arid mountains which rise up in irregular peaks and punctuate the horizon. The 'Ruta de los Volcanes' cannot be followed by foot, but coach trips leave regularly and give guided tours.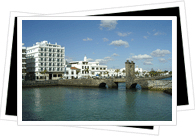 Arrecife - Lanzarote's capital city is a buzzy hub of modern life and traditional culture fused together. Since being named the capital in the mid nineteenth century (before the title belonged to Teguise), Arrecife has risen in popularity and wealth and now houses a large proportion of the island's inhabitants. As well as shopping, nightlife and great restaurants you can also try to find a spot to squeeze on to the city's busy beaches, El Reducto and El Cable.