Have you had enough of soaking up the sun on sandy beaches? Or partying all night in Tenerife's clubs? Looking for something more relaxed and remote? Then travel to El Hierro and see something completely different.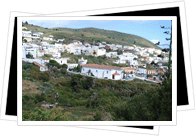 El Hierro is easily reachable by boat from Tenerife in around 2 hours or by plane in just 40 minutes.
Unique within the Canary Islands, the smallest and most western island, El Hierro offers a completely different experience to what you might expect when you hear the words 'Canary Islands'.
A hot spot for any ecotourist, El Hierro was named a UNESCO Biosphere Reserve in 2002 and there are plans for a 50 millio euro project to make El Hierro the world's first island to run entirely on renewable energy.
Despite its volcanic landscape, El Hierro is a verdant and lush island a long way from the aridity which characterises much of the archipelago. This is the perfect place to enjoy the wonders of nature in a relatively isolated setting. In coming to El Hierro you are leaving behind the vast sandy beaches of the other islands, however, you are also leaving behind the vast number of tourists that frequent them. Content yourself with the beauty of natural pools and dramatic cliff faces and be ready to have a unique and memorable trip to El Hierro.
El Hierro Highlights
Valverde - El Hierro's beautiful capital city is as traditional as they get. The charming stonework and red rooved houses which characterise the city center is a delightful place to have a wander round. There are also lots of little restaurants, perfect for sampling some Canarian cuisine.
Natural Pools - Along the craggy cliff face which lines the coastline you can get some spectacular views and also enjoy discovering lots of little natural pools and coves which are perfect for swimming, diving and fishing. One of the most beautiful is crystal clear El Tamaduste.
Valle El Golfo - Amongst the high reaching cliffs and moutainous volcanic scenery is the Golfo Valley. This stunning plain covers 14km and is a nature lover's paradise with dense laurisilva forests and incredible wildlife.
Frontera - There are several good spots for wine tasting on El Hierro but the bodega at Frontera comes highly reccommended. The best wine to come out of the Canaries comes from this gem of a vineyard so if you're a fan of good vino, this is a must-see.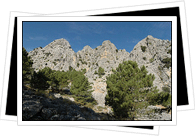 Hiking - Those who love the great outdoors will be in their element exploring the majestic landscapes of El Hierro. Hiking through the emerald green volcanic mountains is an unforgettable experience and a really rewarding change from sunbathing. A walk up to Mirador de la Pena offers particularly spectacular views over the Valle el Golfo. Here you can dine at one of Lanzarote artist, César Manrique's beautifully designed restaurants and gaze out over the island. (For more information on the works of César Manrique travel to Lanzarote.) The rocky climb up to the Mirador de Jinama is another very worthwhile experience.
So what are you waiting for? Travel to El Hierro and enjoy the view