Once you've explored all that Tenerife has to offer why not travel to Fuerteventura, the second biggest island on the Canaries.
Fuerteventura, which literally means 'strong winds' is one of the most popular destinations with European holiday makers and it's not hard to see why. The climate is perfect for enjoying the beaches all year round, rarely dropping below 18 degrees celsius and on top of that Fuerteventura is home to a vibrant capital city and an endless selection of beaches to take your pick from - You would really need a very good excuse not to go!
Fuerteventura Highlights
Puerto del Rosario - Fuerteventura's capital city is a lively place to spend a few days. There is a huge number of restaurants to suit all tastes and an exciting bar and club scene which whirs into action when the sun sets. During the day you can visit Puerto del Rosario's very own beaches or take a day trip to nearby Caleta de Fuste. If you're trip coincides with Carnival (feb-march) you will be in for a treat! Fuerteventura puts on a good party fit to rival the famous carnivals of Tenerife.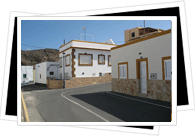 Beaches - Where do we start? With over 300km of exquisite coastline and some of the best white sand beaches in the Canaries, Fuerteventura is the perfect place to indulge in a bit of beach action.
The southern region of Jandía is most popular with visitors as the weather is mild and the sea calmer. Costa Calma and Morro Jable are two of the most popular resorts with beautiful golden sandy beaches. Both are busy resorts with large hotels purpose built to accommodate as many visitors as possible. However, the surrounding landscape has been considered in the construction of the modern buildings which are not as unattractive as in other beach resorts. Both resorts attract a huge number of German visitors, the offshoot of which is that German food is widely available and in some places, you are more likely to hear German than Spanish. As well as being a windsurfers paradise, in the south you can embark on all kinds of watersports and do some excellent scuba diving.
To the north of the island the beach of Corralejos comes highly recommended. A lot less urbanised, this beautiful beach covers 6km of golden sand and is flanked by dramatic sand dunes. This is also one of the best places on the island for surfing and diving.
So why not top off your trip to the Canary Islands by travelling to Fuerteventura to soak up some sun!