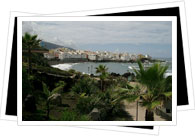 Located just 100 kilometers off the western coast of northern Africa, natural beauty, unbeatable weather and age-old traditions set the tone in the unique island paradise of Tenerife. Known world-wide as the "island of eternal spring," it was described by Homer and Herodotus as gardens of astounding beauty and, according to ancient myths, it could be the infamous Garden of Hesperydes where Greek god Atlas' daughters tended to apple orchards.
Tenerife's earliest days are a mysterious mix of myths and factual history until the unexplained appearance of the indigenous population known as the Guanches, who lived in kingdoms across the island until the 15th century Spanish conquest. Overtaken by Spanish forces, Tenerife quickly became the crossroads of trade routes running between Europe, Africa and the Americas. Today Tenerife and its fellow Canary Islands comprise one of Spain's 17 autonomous communities. However, they celebrate a history and culture totally unlike that of their mainland counterparts.
The vastly diverse island of Tenerife is a nature lover's utopia, a backpacker's paradise and a sun-seeker's dream. Nearly half of Tenerife's lands are protected by the government, allowing for the conservation of lush pine forests, colorful fields of wildflowers, plunging cliffs, natural volcanic craters and culminating with the often snow-capped Mount Teide- the highest peak in Spanish territory.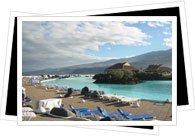 Much of what makes Tenerife so fascinating is the ever-changing flora and terrain. Contrasting the dry, flat and beach resort-laden south are the impossibly green banana plantations, rugged coastline and rocky coves of the north. Set into such fascinating natural surroundings, the north is also home to the island's most interesting towns, ranging from capital city hustle and bustle of Santa Cruz to the quaint small-town charm of Garachico. Outside of the towns you'll find endless opportunities for walking, hiking, biking, horseback riding, canyoning and rock-climbing- not to mention stunning views overlooking sweeping valleys and the crystalline blue ocean.
The warm, clear waters of the Atlantic Ocean break upon the shores of Tenerife's 269 kilometers of coastline. Whether you want to set your towel down on the stretches of beaches typical of the south or the secluded, black-sand coves of the north, there is something for everyone. If you want to kick things up a few notches, make a splash with a variety of water activities both above and below the surface. Explore the underwater beauty with a scuba-diving adventure, try out wind-surfing and ride the waves, buzz up and down the coast atop a jet-ski or set out on a whale-watching excursion to glimpse the colony of over 500 pilot whales that live just off of Tenerife's coast.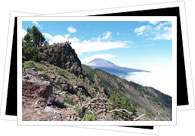 If you're more of a culture-vulture than a tree hugger, fret not! Tenerife's cultural scene is actually one of its most intriguing facets. Everything from the island's traditional architecture to its folk music, typical food (try the mojo!), artisan crafts, Canary Island sports and festivals boast the interwoven influences of the indigenous, Spanish, African and Latin American cultures that have played such major roles in the island's development.
Complementing Tenerife's time-honored traditional character is a modern, progressive cultural side. The island is brimming with an eclectic collection of museums where you can dive into worlds of science, contemporary art, archaeological finds and more. Theaters and concert venues of all varieties - such as the sleek, ultra modern Auditorio de Tenerife - are dispersed throughout Tenerife's towns and cities, offering anything from modern rock concerts to opera, Lope de Vega plays and the Tenerife Symphony Orchestra.
Whether by airplane or ferry, a world of culture, history and nature that you won't find anywhere else awaits you in Tenerife.