Rock Climbing: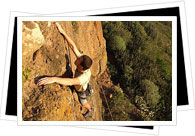 Using ropes and safety gear, rock climbing is basically the activity of climbing steep rock formations. With the rugged rock formations typical of its volcanic nature, it won't take you long to realize that Tenerife is a rock climbing paradise. Below we have listed a handful of Tenerife's rock climbing zones to get you started:
Los Caprichos
Where: Teide National Park
Details: Los Caprichos is a climbing zone with more than 130 rock climbing routes.
Roque de Garcia
Where: Teide National Park
Details: Situated behind Los Roques de García, this zone boasts more than 12 routes of up to 150 meters.
Arico
Where: Villa de Arico
Details: Located in the southern zone of the island, here you'll find a ravine with more than 120 rock climbing routes and approximately 800 meters of altitude above sea level.
Roque de las Animas
Where: Taganana
Details: A rock climbing zone with classic wall-climbing.
Volcano Potholing:
Tenerife is brimming with exciting caves and tunnels that were formed by volcanic eruptions long ago. Both on land and below water, over 750 caves have been documented in Tenerife, which add up to a cumulative length of over 30 kilometers! You'll find the bulk of these volcanic pipes and caves in the environs of Mount Teide, although for those located actually in the Mount Teide National Park you will need to make an agreement with a potholing club in order to access them.
Cueva del Vieno
Where: Icod de los Vinos
Details: Consisting of nearly 20 kilometers, it's the longest volcanic pipe in the world longest volcanic pipe in the world with almost 20 kilometers. It's usually closed to the general public, but for information and permits contact the Icod de los Vinos town council: (Tel) 922 81 38 12.
Cueva de San Marcos
Where: Icod de los Vinos (next to San Marcos beach)
Details: 1,800 meter long volcanic pipe
Sima Vicky
Where: Montaña Rajada (Mount Teide National Park)
Details: Its 71 meters of depth make Sima Vicky the deepest of Tenerife's 20 volcanic caves.
Canyoning:
Canyoning is, in simple terms, descending the canyons that have been spectacularly forged by water flowing through the mountains over thousands and thousands of years. Generally considered to be a more technical descent than say, hiking, canyoning usually consists of rappelling your way down the canyon wall using ropes. Depending on the characteristics of each ravine, you may need more specialized climbing / rappelling gear.
Tenerife has canyons and gullies ideal for every level, so whether you're a curious novice or a seasoned expert, get in contact with one of Tenerife's many clubs. Below you'll find a few of Tenerife's many canyoning sites:
Barranco del Carrizal
Where: Teno Massif (Los Gigantes)
Barranco de Masca End Barranco Seco
Where: Teno Massif (Los Gigantes)
Barranco del Río
Where: Arico
Rock Climbing, Volcano Potholing and Canyoning Clubs
Club Monañeros de Nivaria
c/ Hero, 53
Santa Cruz
(Tel) 922 22 57 17
Tenerife Mountaineering Group
c/ Primo de Rivera, 86
Santa Cruz
(Tel) 980 16 28 82
Granadilla Mountaineering Group
Edif. Garygonza, 17
Granadilla de Abona
(Tel) 922 77 16 08
Tamaide Mountaineering Group
Buenaventura Machado Melián, 10
La Orotava
Peña Baeza Mountaineering Group
Iriarte Edif. Teide
Puerto de la Cruz
Tajinaste Potholing Club
c/ San Juan, 15
Santa Cruz
Tenerife Climbers Association
c/ El Progreso, 21
Santa Cruz