Highlights:
PLAZA DE ESPAÑA
PARQUE GARCÍA SANABRIA (García Sanabria Park)
AUDITORIO DE TENERIFE (Tenerife Auditorium)
TENERIFE SYMPHONY ORCHESTRA
PLAYA LAS TERESITAS (Teresitas Beach)
IGLESIA DE LA CONCEPCIÓN (Church of the Conception)
CARNIVAL
TEATRO GUIMERÁ (Guimerá Theater)
ZUMERÍAS (Juice Bars)
VIDA NOCTURNA (Nightlife)
MUSEO DE LA NATURALEZA Y EL HOMBRE (Museum of Nature and Man)
MERCADO NUESTRA SEÑORA DE ÁFRICA (Our Lady of Africa Market)
ALMEIDA MUSEO MILITAR DE CANARIAS (Almeida Military Museum of the Canary Islands)
CENTRO DE FOTOGRAFÍA (Photography Center)
In a Nutshell:
As the capital of Tenerife, one of Spain's busiest ports and the second most populous city in the Canary Islands, Santa Cruz is a constant hive of activity and energy. The prosperous commercial activity that Tenerife enjoyed as a crossroads of trade routes connecting Europe, Africa and the Americas, as well as the development of Santa Cruz's port, bumped the town up in importance and, in the 18th century, Santa Cruz took over island capital status from the nearby city of La Laguna.
Since then, the traditional yet progressive Santa Cruz (population roughly 220,000) has been unstoppable. Today it has the best of everything- the cosmopolitan vibe of a capital city, the quaint Canarian architecture of a traditional town, modern concert venues, sun-soaked beaches, tree-lined pedestrian promenades, romantic street lamps, historical theaters, old castles, a happening nightlife, artsy film houses, great shopping, professional sports teams, an incredible cultural agenda and myriads more.
Santa Cruz Culture: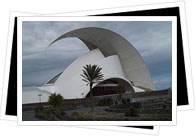 Santa Cruz's cultural scene is a delightful hodgepodge of festivals, museums and cultural venues. One of the most stunning structures in the city is the sleek Auditorio de Tenerife. Quite appropriately resembling an enormous and brilliantly white crashing wave, head here to see musical and cultural events- most notably the Tenerife Symphony Orchestra. For a more traditional atmosphere for the performing arts, the Teatro Guimerá is the city's most historic theater and has been declared an Artistic Historical Monument.
The festival scene in Santa Cruz is unbeatable. Celebrating everything from traditional cuisine to cinema, world-class opera, and revered saints, your cultural side is in for a treat. Plus, how could we forget the infamous Carnival that bursts into action each year for days upon days of parades, music, costumes and street parties!
As for museums, Santa Cruz definitely doesn't suffer from a shortage. From the Museum of Fine Arts to the Museum of Nature and Man, the Photography Center and the Almeida Military Museum, there's a bit of something for every taste.
Santa Cruz Beaches: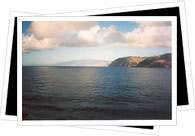 The ocean upon which it sits has always played a major role in Santa Cruz's lifestyle, so naturally it has a hearty handful of places to set down your towel and soak up some rays. The 1.5-kilometer Playa de las Teresitas, located seven kilometers from the city center down a seaside promenade, is the most popular of Santa Cruz's beaches and features soft, white sand imported from the Sahara Desert.
The black sand beaches of Anaga, outside of the urban sprawl, are more tranquil due to their removal from downtown Santa Cruz. Head for the natural black sand beaches Las Bodegas, Las Gaviotas, Antequera, Almáciga and Benijos, all of which preserve an unspoiled and much less touristy character.
Santa Cruz Tourism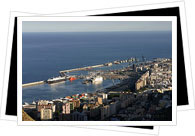 A great way to introduce yourself to the city and soak up some the city's energy is to head first to the Plaza de España, a non-stop hub of action and people. If you'd rather do your culture-soaking in a more tranquil atmosphere, the tree-lined Plaza de Príncipe de Asturias is endless charming, romantic and perfect for a leisurely stroll.
On the religious side, the Iglesia de la Concepción is a must-see. Founded in 1498 just after Santa Cruz itself was founded, it's Santa Cruz's oldest church and features intricate woodwork and a typical Canarian balcony. Other churches around town that are worth a stop are the Iglesia de San Francisco and the Iglesia de San Sebastián.
Whether you're looking to shop or not, the Mercado de Nuestra Señora de África (Calle San Sebastián) should be a definite on your tourism checklist. Consisting of galleries of merchants of all kinds centered around a large central courtyard and clock tower, the market has been a major focal point city since the 1940's and has been declared an Artistic Historical Monument.
Nature-lovers in the big city won't have to go far to bask in Santa Cruz's natural surroundings. Within the city limits you'll find the García Sanabria Park- essentially Santa Cruz's answer to New York's Central Park. Enjoy 70,000 square meters of wooded paths, rose gardens, palm gross, an open-air sculpture exhibit and general natural beauty. Meanwhile, the Anaga Natural Park is practically a stone's throw from the city and offers incredible drives, enjoyable hikes and unbeatable look-out points of the area's verdant countryside and crystalline blue ocean.