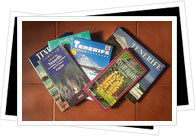 While Tenerife's sun-soaked, resort-packed and beach laden southern zone attracts sun-seeking tourists by the thousands, the north is - at least from a cultural stand point - far more interesting. Nestled into the sweeping hillsides, lush banana plantations and rugged, unpredictable coastlines typical of the northern region you will find fascinating cities and towns overflowing with a typical Canarian personality that their southern counterparts have long since lost.
Here you'll find entire cities declared World Heritage Sites by UNESCO, immaculately conserved Canarian architecture, time-honored traditions and multi-faceted cultural scenes... all set to a background of verdant gardens, dramatic landscapes and the often snowy peak of Mount Teide.
Venture away from the touristy south and explore the urban vitality of capital city Santa Cruz, the quaint small-town atmosphere of Garachico, the friendly hospitality of Puerto de la Cruz, the historical nooks of La Orotava and the eclectic vibe of La Laguna- the youngest old town around!
Find out more in our island guide!