Highlights:
CASCO HISTÓRICO (Historical Quarter)
CATEDRAL (Cathedal)
IGLESIA DE SANTO DOMINGO (Santo Domingo Church)
IGLESIA DE NUESTRA SEÑORA DE LA CONCEPCIÓN (Church of Our Lady of Conception)
VIDA NOCTURA (Nightlife)
PARQUE DE LOS DRAGOS (Los Dragos Park)
FIESTA DEL CRISTO DE LA LAGUNA (Festival of the Christ)
ROMERÍA DE SAN BENITO ABAD (Pilgrimage of San Benito Abad)
PALACIO LERCARO (Lercaro Palace)
CASA - MUSEO OSSUNA (Ossuna Home - Museum)
CASA SALAZAR (Salazar Home)
PALACIO DE NAVA (Nava Palace)
EX-CONVENTO DE SAN AGUSTÍN (Former Convent of San Augustín)
ERMITA DE SAN MIGUEL (San Miguel Chapel)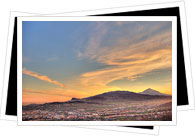 In a Nutshell:
Nestled snugly between the banana plantations and sweeping hillsides of the verdant Aguere Valley is the historical city of San Cristobal de La Laguna- more commonly called La Laguna. Founded in 1496 by Alonso Fernández de Lugo, La Laguna was the original capital of Tenerife; located inland and therefore safe from pirates who essentially patrolled the nearby seas, it was the home to the island's affluent ecclesiastical and noble aristocracy.
While capital status was transferred to nearby rising star Santa Cruz back in 1723, La Laguna (population roughly 142,000) remains Tenerife's cultural, religious and intellectual center. Its perfectly preserved Casco Antiguo (historical center) is a World Heritage Site protected by UNESCO, it has more museums than any other town in Tenerife and it is home to Tenerife's University of San Fernando.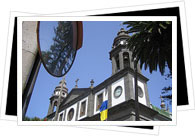 La Laguna Culture:
Walking through the immaculate old quarter of La Laguna is like stepping back in time. The old quarter is preserved practically just as it was centuries ago. The tranquil streets, many of which are now completely pedestrianized, will lead you through a veritable wonderland of traditional architecture hailing from the 16th through 18th centuries: traditional Canarian houses with their balconies and courtyards, beautiful churches, impressive convents, noble mansions and much more.
Complementing La Laguna's historical and cultural vibe is an admirable adherence to age-old traditions. In fact, La Laguna has a reputation for being the heart of Tenerife's folk scene. La Laguna and the nearby towns of its surrounding environs boast over 50 folk music groups, which come together for the city's Canarian sports events and festivals.
As a cultural hot spot, La Laguna's festival scene is chock full of these traditional celebrations - such as the Festival of the Christ and the Romería of San Benito Abad - that feature folk music and dancing, typical artisan goods, traditional garb, religious pilgrimages and typical Canarian food and drink.
Filling up the rest of La Laguna's cultural agenda are a mishmash of fascinating arts festivals showcasing anything from photography (Fotonoviembre) to Brazilian beats (Brazilian Music Festival), folk music (Folk and Roots Festival) and rock & roll (Heineken Campus Rock). Temporary exhibits pop up in La Laguna's many art galleries, exposition centers and museums- La Laguna actually has more museums than any other town or city in Tenerife!
Juxtaposing La Laguna's historical flavor is the youthful energy of the city's university population. The old city reverberates day and night with the lively atmosphere created by the Universidad de San Fernando's 30,000 students. You can also credit La Laguna's role as a university town for the creation of Tenerife's most happening nightlife scene (check out the university zone known as the "cuadrilátero," where you'll find more than 100 bars and pubs packed together) as well as the bulk of island's thriving gay community.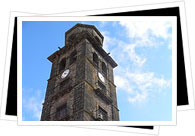 La Laguna Tourism:
Set to the stunning background of green hillsides, brightly colored historical buildings line La Laguna's picturesque streets and speak volumes of the most prominant epoch of La Laguna's past.
As the long-time religious hub of Tenerife, La Laguna is brimming with religious architecture- convents, churches, chapels, cathedrals, etc. The city's cathedral, also known as Nuestra Señora de los Remedios, is a beautiful Neoclassical structure with an undeniably Canarian flare, but the real symbol of the city is the Renaissance-inspired Iglesia de Nuestra Señora de la Concepción and its stone tower. Other churches worth a stop include the Iglesia de Santo Domingo, the Ermita de San Miguel and the Ex-convento de San Agustín.
The second branch of aristocracy - the nobility - also had its fair share of architecture thrown into the mix. The layout of much of the city, boasting wide streets and open spaces, attests to satisfying the desires of La Laguna's important families, as do many of the conserved mansions and palaces. Check out the Palacio Lercaro, the Palacio de Nava, the Casa Ossuna and the Casa Salazar to get a glimpse into the life and times of the high and mighty of La Laguna's past..
Finally, get out of the sun and take a breather from your whirlwind touristic route in the Parque de los Dragos. Located near the university, the park has an amazing collection of dragon trees, symbol of the island and a fixture in its history and legends.