Museo Municipal de Bellas Artes
(Municipal Museum of Fine Arts)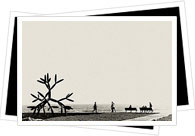 As far as museums go, Santa Cruz's fine arts fantastic museum, which showcases artwork spanning the 16th through 20th centuries, is without a doubt one of Tenerife's highlights. In fact, the hoards of masterpieces found within the museum can be credited with the declaration of the building as an Artistic Historical Monument- so long as it retains its collection!
Peruse the ten halls of permanent expositions, full not only of the museum's own collection of paintings and sculptures but also a hefty chunk of Madrid's Prado Museum's extensive holdings. Aside from so-called "typical" museum artwork, you can also poke through - without touching, that is - the Marquis of Villasegura's personal collection of furniture and porcelain as well as an assortment of weapons and coins left to the museum by Arturo López de Vergara.
c/ José Murphy, 12
Santa Cruz
(Tel) 922 24 43 58
Museum Hours: Monday-Friday 10:00am-8:00pm
Museo de Arte Contemporáneo
(Museum of Contemporary Art)
Set in the church of the impressive Convento de Santo Domingo (Convent of Saint Domingo), Garachico's contemporary art museum has been wowing visitors for years with its mix of temporary and permanent expositions. Check out sculptures, paintings and other art mediums crafted not only by Canarian sculptors and painters but also up-and-coming students of the Fine Arts School of Madrid.
Plaza de Santo Domingo
Garachico
(Tel) 922 83 00 00
Museum Hours: Daily 9:00am-1:00pm, 4:00pm-7:00pm
Museo de Arte Contemporáneo al Aire Libre
(Museum of Open-Air Contemporary Art)
What better way to enjoy artwork than to set it outside in a setting of bright sunshine and lush tropical vegetation. Dispersed along the Rambla General Franco and the García Sanabria Park in Adeje, wander through this open-air collection of sculptures at your own pace.
Rambla General Franco and García Sanabria Park
Adeje
(Tel) 922 60 62 00
Museo de Artesanía Casa Torrehermosa
(Casa Torrehermosa Museum of Artisanship)
If you're on the hunt for the perfect gift or souvenir, local handicrafts are the way to go. Learn all about Canarian artisanship in this surprisingly interesting La Orotava museum. More than 1,500 traditional hand-crafted objects are dispersed throughout five spacious rooms perfect for browsing. Plus, there's even a workshop where artisans are constantly working their creative magic with clay, wood, etc. They'll not only teach you all about the production and characteristics of various trade crafts, but also how to tell the difference between the genuine thing and a cheap, made-for-tourists reproduction- pretty handy information if you're in the market for some local goods.
c/ Tomás Zerolo, 27
La Orotava
(Tel) 922 33 40 13
Museum Hours: Daily 9:30am-1:00pm, 3:00pm-6:30pm
Museo de Artesanía Iberoamericana
(Museum of Spanish-American Artisanship)
Complementing the neighboring Casa Torrehermosa Museum of Artisanship's showcase of Canarian handicrafts is the Museum of Spanish-American Artisanship, situated just down the street in La Orotava. Making its home in the beautiful Convent of Saint Benito Abad, the museum features artisan crafts from Spain and its former colonized empire holdings - America and the Phillipines - and dedicates equal space and attention to since-disappeared artisanship, artisanship on its way out and artisanship still widely practiced today. It's hard to believe that the massive collection of musical instruments, textiles, ceramics, fabrics and popular art
While you're there, don't overlook the convent's flawless architecture- it's a top-notch example of Canarian religious architecture. Seek out the Mudejar-influenced, intricately wood-worked ceilings on the second floor as well as the stunning cloister, featuring a Canarian balcony set upon elegant Tuscan columns.
c/ Tomás Zerolo, 34
La Orotava
(Tel) 922 35 29 06
Museum Hours: Daily 9:30am-6:00pm
Centro de Fotografía Isla de Tenerife
(Tenerife Island Center of Photography)
Collecting, protecting and showcasing photographs since 1989, Tenerife's photography center has amassed a veritable hoard of photographs in its dedicated quest to preserve this important medium of contemporary expression. Along with two exposition halls, there's also a top-notch photo laboratory, a conference hall and a library with more than 3,000 volumes for photography buffs to leaf through.
Plaza Isla de la Madera, s/n
Santa Cruz
(Tel) 922 29 07 35
Museo de Arte Sacro
(Museum of Sacred Art)
Appropriately set in an 18th-century Dominican convent, the complex's chapel has served as a museum since 1958. Along with the convent's elegant religious architecture, check out the religious objects and artwork more or less highlighting the history of and the dedication to the Virgin of Candelaria, the city's patron saint.
Básilica de la Patrona de la Diócesis Nivariense
Plaza de la Basílica
Candelaria
(Tel) 922 50 01 00
Museum Hours: Daily 10:00am-6:00pm
Museo Dimas Coello
(Dimas Coello Museum)
If you find yourself in La Candelaria during your Tenerife travels, don't pass up the opportunity to check out this museum dedicated to the works Dimas Coello, one of the Canary Islands' most illustrious creative figures. The museum features 65 pieces of artwork of the famed La Candelaria writer, poet and artist, particularly known for his airy impressionist paintings.
Ayuntamiento de Candelaria
Antón Guanche, 1
Candelaria
(Tel) 922 58 08 00
Museum Hours: Monday-Saturday 9:00am-1:00pm, Sundays closed