Casa Lercaro - Museo de Historia de Tenerife
(Lercaro House - Museum of Tenerife History)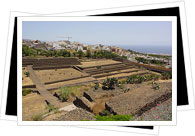 If you're interested in learning a little bit more about the history of Tenerife, check out La Laguna's Casa Lercaro. Built in installments between the 16th and 18th centuries, this Museum of Tenerife History is a Renaissance-inspired former noble house that once belonged to the aristocratic Lercaro family. Along with the typical civilian Canarian architecture and Renaissance frescoes decorating the interior, you can explore its 11 exhibition rooms for a fascinating vision of the social, economic and cultural development of Tenerife between the 15th and 20th centuries.
c/ San Agustín, 22
La Laguna
(Tel) 922 82 59 49
Museum Hours: Monday closed, Tuesday-Saturday 10:00am-5:00pm, Sunday 10:00am-2:00pm
Casa-Museo Ossuna
(Ossuna House-Museum)
Delve into the life and times of the Canarian aristocracy with a visit to this spacious home that once belonged to the Ossuna family. Featuring three floors topped with a large Canarian balcony, head inside the 17th-century house and find spacious courtyards surrounded by balconies, a typical kitchen of the time period and the furniture and personal effects of the Ossuna family. It's a time-traveling experience!
c/ Juan de Vera, 4
La Laguna
(Tel) 922 60 11 84
Museo Militar Regional de Canarias - Castillo de Almeida
(Regional Military Museum of the Canary Islands - Almeida Castle)
The discovery of the Americas not only sparked an exponentially growing affluency in the Canary Islands, but also increasingly frequent pirate and foreign attacks. For this reason, you'll find quite the collection of castles and towers dispersed throughout the archipelago. However, Santa Cruz's Almeida castle wasn't completed until 1884, at which time the vast improvements in battle strategy and technology made the castle essentially useless as a defensive fortification.
However, as of 1988 it has provided the perfect museum space. Appropriately situated in this imposing Almeida castle, the Regional Military Museum of the Canary Islands in Santa Cruz is the place to go for all sorts of objects related to the islands' military past- canons, weaponry, armor, etc. Be sure to swing by the area dedicated to the victory over England's famous Royal Navy admiral Lord Horatio Nelson, who not only lost his invasion attempt but, in the process, also an arm.
Castillo de Almeida
Santa Cruz