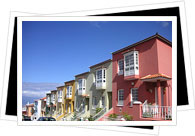 As you wander the picturesque streets of traditional towns like La Laguna, La Orotava and Garachico, you can't help but notice the quaint and even rustic atmosphere created by the buildings.
Bearing resemblance to the traditional architecture of Andalucíca and Portugal - both had ties to the Canary Islands - the buildings were meant to be practical, not decorative. Yet painted in shades of yellow, pink, orange and crisp white, the modesty and simplicity of these buildings - in which practicality is key - is perhaps what make them special.
Canarian House: Traditional Characteristics
The evolution of the traditional and typically two-floor Canarian house started with a basic rectangular floor plan, which then evolved into an L before finally adding one more side to become a U. Closing the final side - and therefore leaving an open space in the middle - is typically a "portada de sillería." This two-floor portal and entrance hall - a characteristic element of Canarian houses - was typically constructed within a block of stone, with one long wooden balcony running across the whole upper floor.
The open space left in the middle of the house's four sides is a patio known as a "Canarian patio," often filled with potted flowers and wall decorations. Around the Canarian patio, you're likely to see an upper floor gallery constructed of wood and supported by columns. This patio - second floor gallery included - is, along with the Canarian balcony, one of the most distinctive characteristics of a traditional Canarian house.