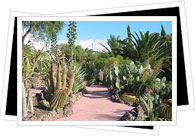 While southern Tenerife is known for its sprawling beaches, a satellite image of northern Tenerife will show you rolling hills and valleys painted bright green with banana plantations, orange groves and, in general, the island's strikingly diverse vegetation. In fact, you'll find half of Spain's total flora represented right here on this small Atlantic island.
Tucked into these undeniably lush surroundings, many of Tenerife's northern towns - Santa Cruz, Puerto de la Cruz, La Orotava - boast colorful natural splendor not only outside but also inside city limits. Tropical varieties of palm trees, plants and flowers - all in a state of year-round bloom - from all over the world bask and coexist in the paradisaical Tenerife weather.
Parque García Sanabria - García Sanabria Park
Head to the sprawling García Sanabria Park to enjoy the warm sunshine - and the refreshing shade - in what is essentially Santa Cruz's equivalent of New York City's Central Park. A mix of paved streets and wooded footpaths lead you through 70,000 square meters of the park's flora - palm tree groves, rose gardens, bamboo walks and a general abundance of flowers in bloom year-round delight the sense in a rush of colors and aromas - hailing from Tenerife to China, Mexico and everywhere in between. Plus, the park doubles as an open-air sculpture exhibition, featuring modern works from the 1974 "Sculpture in the Street" exposition.
Created in the 1920's, the park quickly became a favorite amongst Santa Cruz residents seeking a bit of peace and quiet. Today, the park is a city attraction in its own right and is without a doubt one of the best ways to beat the heat and take a breather from the whirlwind tourism and urban hubbub of Santa Cruz. So do like the locals do: kick back with a book on one of the park's hundreds of wooden benches, peruse one of the constant artisan exhibitions taking place and keep an eye on the time with the park's huge floral clock.
Between the streets Numancia, Méndez Núñez, Dr. José Naveiras and General Franco
Santa Cruz
(Tel) 922 60 60 99 - Santa Cruz, Tenerife Parks & Gardens Office
Hours: Permanently open
Parque de la Granja - La Granja Park
The expansive six-hectare (16-acre) La Granja Park is the second major park in Santa Cruz, Tenerife. Featuring plants and flowers from both very near and very far, it has been beautifying Santa Cruz's urban landscape since the 1970's. Take a break from the hustle and bustle of Tenerife's capital city and, instead, spend a few hours wandering through landscaped gardens, palm groves and Tenerife's emblematic dragon trees.
Between the streets Bélgica, de Madrid, Benito Pérez Armas and Comodoro Rolín
Santa Cruz
(Tel) 922 60 60 99 - Santa Cruz, Tenerife Parks & Gardens Office
Hours: Permanently open
Jardines Botánicos - Botanical Gardens
With Spain's ambitious conquest and subsequent colonization, the Spanish Empire was present virtually around the globe. As Spain increased its holdings, expeditions carrying an abundance of products from their new colonies returned to the mainland- products such as spices, herbs and plants. The Spanish empire reached its territorial height in 1790, right about the time when these botanical gardens came into existence.
With so many of Spain's territorial holdings located in subtropical and tropical zones, there was a need to find a location somewhere in Spain with weather suitable for cultivating the plant species hailing from these regions. The subtropical and tropical varieties throughout this simply stunning Tenerife park are important not only for the beauty they create, but also for size, age, rarity and remote places of origin. It's one of the most popular, colorful and tranquil parts of Puerto de la Cruz
c/ Retama, 2
Puerto de la Cruz
(Tel) 922 38 35 72
Hours: 9:00am - 7:00pm (April - September)
Hours: 9:00am - 6:00pm (October - March)
Sitio Litre
The Sitio Litre park in Puerto de la Cruz, Tenerife was originally the private grounds and gardens petaining to an 18th century mansion. While the mansion itself remains private, its owners have since opened up the magnificent gardens to the delight of the Tenerife public.
You can imagine that the private gardens of any evidently well-off family of the past are probably impressive- and these Tenerife ones are! However, in addition this Tenerife park has a few claims to fame. Along with the impeccable gardens, the Sitio Litre park has the largest collection of orchids in Tenerife, the largest and oldest dragon tree in Puerto de la Cruz and boasts souvenirs from important visitors like the German botanist and explorer Alexander von Humboldt and famed literary giant Agatha Christie.
Camino Sitio Litre, s/n
Puerto de la Cruz
(Tel) 922 38 24 17
Hours: 9:30am - 6:00pm
La Hijuela del Botánico - Botanical Garden
La Orotava's romantic Hijuela del Botánico was originally created - in 1788 - as the sidekick of larger Botanical Gardens in Puerto de la Cruz. Wander through the park's network of footpaths and explore its 4,000 square meters of exotic, colorful vegetation. Over 100 species of plants from all over the world make the park one of Tenerife's best and certainly played into the park's rightful designation in 1994 as a Historic Garden.
c/ Tomás Pérez, s/n
La Orotava
(Tel) 922 33 00 50
Hours: 9:00am - 2:00pm