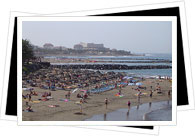 With 269 kilometers of coastline and perpetually sunny weather, it's no surprise that Tenerife boasts quite the collection of beaches. What is surprising, however, is the sheer variety - mirroring the contrasts of the island itself - of the beaches.
You'll find impeccable white sand - imported from nearby Africa's Saharan desert - contrasting with the black volcanic sand natural to Tenerife. You'll find tourist-laden beaches contrasting with secluded coves. You'll find calm, tranquil waters up the coastline from surf havens with major rollers and crashing waves. You'll find urban beaches just steps from downtown and yet you'll also find hidden nooks sheltered by cliffs and only accessible by foot. Finally, you are apt to find beaches for both the clothed and the very much unclothed- it is Europe, after all!
The northern zone, known for its higher altitude and rugged terrain, boasts smaller rocky coves and black sand inlets tucked into the nooks of the coastline. Check out the golden El Bollullo (La Orotava) and the black sand Los Roques (Los Realejos) for a couple examples.
The hotter, dryer and more tourist-laden south, however, is full of resort towns built around massive stretches of beaches. Los Cristianos and Las Américas are two beach resort towns chock-full of British and German tourists; however, they serve as good bases to get to the more pleasant nearby beaches of El Médano and Vistas.
European Blue Flag Beaches in Tenerife
Each year, the independent non-profit organization Foundation for Environmental Education (FEE) awards the European Blue Flag to beaches across Europe, South Africa, Morocco, New Zealand, Canada and the Caribbean. To garner the coveted distinction, beaches must comply with a strict criteria dealing with water quality, environmental education and information, environmental management, safety and other services.
In Tenerife, there are eight European Blue Flag beaches:
Playa Jardín
Puerto de la Cruz
El Socorro
Where: Santiago del Teide
Playa de Troya I-II
Where: Adeje
La Arena
Where: Santiago del Teide
La Arena
Where: Mesa del Mar - Tacoronte
El Médano
Where: Granadilla de Abona
Leocadio Machado
Where: Granadilla de Abona
Fañabé
Where: Adeje