Mount Teide
Emblem of the Canary Islands and without a doubt Tenerife's most spectacular natural feature, Mount Teide dominates practically the whole of Tenerife's center and can be seen from virtually anywhere; its often snow-capped peak and even be seen from the beach!
The mountain's peculiar name derives from the Spanish version of its Guanche name Echeyde or Echeide, which essentially means hell in the indigenous Guanche language. Due understandably to Mount Teide's volcanic nature, the Guanches thought Mount Teide to be one of the portals to the fiery underworld in which the evil spirit Guayota - destructor - lived.
The soaring - at 3,718 meters tall it's Spain's highest peak - Mount Teide actually forms merely the northern ridge of the massive volcano credited with the creation of Tenerife millions of years ago. To give you just an idea of the sheer magnitude of the volcano (and evidently its eruptions), another indication of its colossal dimensions is "la caldera," the crater measuring a jaw-dropping 17 kilometers across.
Mount Teide Nature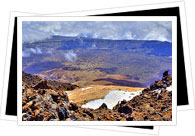 The volcanic nature of the Mount Teide National Park makes for a geological playground full of fascinating hiking trails and routes. Along with Mount Teide and the giant crater, other features of the park include peculiar rock formations left behind by lava flows, a second volcano - Pico Viejo - and its stunning 800 meter crater, the collapsed craters that form Las Cañadas, and Guajara- a site created by the internal crater walls that are practically sheer cliffs shooting up hundreds of meters.
The Mount Teide National Park is essentially vast, unspoiled wilderness ranging from volcanic rock formations to fields of wildflowers and pine forests. Hundreds of species of trees, flowers, insects, birds and other creatures inhabit the area and easily make it one of the world's most fascinating biological regions. Keep an eye out for autochthonous Tenerife species such as the lagarto tizón, a stone-colored lizard, and the Mount Teide violets, an endangered species of wildflowers.
Mount Teide National Park
In 1954, Mount Teide and its vast and unspoiled natural surroundings achieved National Park status for its ecological and volcanic importance; today it is the oldest and - covering 18,990 hectares - largest of the Canary Islands' National Parks. Beyond the extensive limits of the Mount Teide National Park, the area is further surrounded by the Corona Forestal Nature Park, whose 46,613 hectares make it the Canaries' largest protected natural (not to be confused with national) park.
Give a call to the National Park Offices to reserve a spot in the daily guided hiking tour (it's free!) or to ask about the day's most scenic Mount Teide hiking trails if you want to make a go of it on your own. Head to the visitors centers, coincidentally the starting points for the majority of the hiking routes, for maps and more information. Also keep in mind that should you want to venture to the very top of Mount Teide (an additional 163-meter hike), you'll need a special permit granted by the National Park Offices; only a couple hundred permits are granted each day so plan a few days ahead!
National Park Offices
c/ Emilio Calzadilla, 5
Santa Cruz
(Tel) 922 29 01 29
Website: reddeparquesnacionales.mma.es/parques/teide/index.htm
Office Hours: 9:00am - 2:00pm
El Portillo de la Villa Vistor's Center
Road TF-21, kilometer 32.1
(Tel) 922 35 60 00
Cañada Blanca Visitor's Center
Las Cañadas National Tourist Parador
Road TF-21, kilometer 46.5
(Tel) 922 37 33 91
Mount Teide Teleférico
For unbeatable views without the sore legs, cruise up those last 1,000 meters to Teide's peak in the Teleférico cablecar. Well, almost to Teide's peak. Access to the very top and the crater is restricted; a certain number of permits are granted by the National Park Offices each day, so if you're planning on taking that final climb, plan a couple of days ahead. Regardless, the cablecar heads up Mount Teide out of the La Rambleta viewpoint and covers nearly 2,200 meters in a mere eight to ten minutes.
Teleférico
Mount Teide Cablecar Station:
Carretera Orotava - Granadilla, s/n
(Tel) 922 10 04 45
Website: www.telerificoteide.com
Operating Hours: 9:00am - 4:00pm (descents until 5:00pm)
How to get to Mount Teide National Park
While a vehicle rental will certainly give you freedom and easy transportation no matter where you're coming from, Tenerife's Titsa bus company will get you to the main Mount Teide spots. Hop on bus #348 from Puerto de la Cruz or bus #342 from Playa de las Américas. The buses depart in the morning at 9:15am and will drop you off either at the Cañada Blanca visitor's center or further up the road at the Teleférico station. Return trips depart from the Teleférico at 3:40pm or from the Cañada Blanca visitor's center at 4:00pm- don't miss the bus!