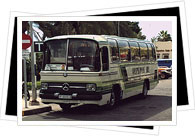 While driving is probably the most adventurous way to explore all that Tenerife has to offer, Tenerife is fortunately one of the two islands of the archipelago on which renting a vehicle isn't essential. The island boasts fantastic bus coverage that links together natural parks, major cities, tiny villages, airports, etc.
A bona fide fleet of over 550 Tenerife buses - more commonly referred to as "guaguas" - constantly cruise around the island carting beach-goers, hikers, tourists and locals off to their various Tenerife destinations. The Tenerife buses are also an extremely economical way to get from point A to point B- especially if you buy what's known as a "Bono-Bus."
You can purchase a prepaid Bono-Bus from Titsa, Tenerife's bus company, in Tenerife bus stations and kiosks. As you travel around, the price of your bus tickets are reduced by 50% and simply detracted from your pre-paid Bono-Bus. Valid for all bus lines and itineraries throughout Tenerife, the Bono-Bus is also transferrable- or in other words, you can buy just one and share with your fellow travelers. Not a bad deal!
Titsa (Tenerife Bus Company)
Main Offices:
c/ Punta de Anaga, 1
Santa María del Mar (Santa Cruz)
(Tel) 922 47 95 00
(Tel) 922 53 13 00
Main Tenerife Bus Station:
Avda. 3 de Mayo, 47
Santa Cruz
(Tel) 922 53 13 00
Titsa Website: www.titsa.com