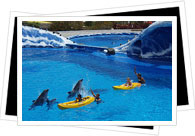 Sure, they may be touristy and probably even over-priced, but you have to admit they're fun! From massive zoo theme parks to bumpy camel rides, plunging waterslides and exotic jungle adventures, Tenerife's theme and water parks are a sure-fire way to have an absolute blast.
Loro Parque
As far as theme parks go, Loro Parque steals the show. What started out back in the 1970's as a modest parrot park has grown to more than ten times its original size to become one of the Canary Islands' most popular attractions. Consisting of 13 hectares (32 acres) of impeccably recreated jungles and animal habitats, you'll quickly find that the park has the best and biggest of everything- the largest collection of parrots, the biggest dolphinarium, one of the most modern aquariums... trust us, the list goes on.
Some of the park's highlights are the genuine and exotic Thai village - constructed in Thailand and brought to Tenerife via boat - through which visitors enter, a brand-new habitat for the park's four new orca whales and the modern aquarium's 18.5 meter underwater tunnel. The so-called "Planet Penguin," a recreated Antarctica right down to the very last detail, can't be missed. Nearly 200 penguins swim and play in this incredible indoor habitat, featuring sub-zero temperatures, crystal-clear sea water and a massive snow-covered rocky island.
Avenida Loro Parque, s/n
Playa Punta Brava
Puerto de la Cruz
(Tel) 922 37 40 81
Free bus to / from Puerto de la Cruz
Park Hours: Daily 8:30am - 6:45pm
Website: www.loroparque.com
Aqualand
A refreshing oasis in the midst of the dry southern zone of Tenerife, Aqualand is undoubtedly one of the most entertaining - and wet! - ways to beat the heat. Start out with a show in the park's massive dolphinarium - one of Europe's largest and most modern - featuring those ever-smiling dolphins, but don't let them have all the fun!
Make your own splash in the water park's unpredictable river rapids ride or its mind-blowing waterslides that go by names like "Kamikaze," "Twister," "Super Slalom," "Boomerang" and "Crazy Race." To just kick back and enjoy the sun without the adrenalin rush, hop on to a raft and let yourself leisurely bob along the relaxing "Congo River."
Avenida de Austria, 15
Costa Adeje
Arona
(Tel) 922 71 52 66
Free bus to / from Los Cristianos and Playa de las Américas
Park Hours: Daily 10:00am - 6:00pm
Website: www.aqualand.es
Parque Las Águilas - Jungle Park
Unleash your inner Indiana Jones in Parque Las Águilas' exotic world of tropical jungles, tranquil lagoons, cascading waterfalls, mysterious caves and tottering hanging bridges. Along the way, stop in to see the park's more than 500 animals hailing from all over the world, such as crocodiles, tigers, hipopotamus, lions, penguins, monkeys and exotic birds.
Urbanización Las Águilas del Teide
Ctra. Los Cristianos - Arona, kilometer 3
Arona
(Tel) 922 72 90 10
Free bus to / from Los Cristianos and Playa de las Américas
Park Hours: Daily 10:00am - 5:30pm
Website: www.aguilasjunglepark.com
Camel Park
Not too many people can say that they've ridden everyone's favorite hump-backed creature, but at Camel Park that's the main attraction. Located just off the coast of Morocco and the western Sahara desert, the southern part of Tenerife has a hot and dry desert-like climate- in other words, the perfect climate for a camel.
Get to know all about the different species and lives of this peculiar animal while cruising around the park's grounds perched upon one! A guaranteed once-in-a-lifetime experience that is sure to yield some entertaining photos to stick in your album.
Carretera General La Camella, kilometer 3.5
Los Cristianos
Arona
(Tel) 922 72 11 21
Free bus to / from Los Cristianos and Playa de las Américas
Park Hours: 10:00am - 5:00pm
Website: www.camelpark-tenerife.com