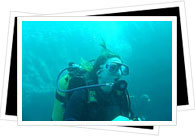 Standing on the beach in Tenerife and looking out over the shimmering sea gives you an unbeatable postcard-worthy view- especially at sunset! Yet it's hard to believe that submerged just below its rolling surface is a secret world every bit as exuberant and diverse as Tenerife's fascinating landscape.
Imagine exploring antiquated remains of shipwrecks, gliding silently through dazzling curtains of exotic fish and exploring underwater caves. The warm Canarian waters are so incredibly clear that the sun - high above the surface - illuminates the entire seascape and you can see up to 30 meters in any direction.
The paradisaical Canary Islands are home to half of Spain's flora and one-fifth of its fauna, much of which is found beneath the surrounding waters' surface. Tenerife, like the rest of the archipelago, conserves marine ecosystems with subtropical and tropical Atlantic species, Mediterranean species and even species unique to the Canary Islands. Playful dolphins, colonies of pilot whales, slow-moving sea turtles, brightly colored swarms of parrot fish... these are just a few members of the vast underwater community awaiting you in Tenerife.
With endless kilometers of coastline, ranging from hidden rocky coves to sprawling beaches, there are over 30 major dive sites dispersed along Tenerife's coast. The best sites could possibly be narrowed down to Las Galletas, Playa Paraíso and Punta de la Rasca in the south and Garachico, Puerto de la Cruz and Punta de Teno up along the north. There are countless clubs and schools devoted to scuba-diving, making scuba-diving in Tenerife a fascinating activity for from beginners to experts.
Below you'll find a shortened list of just a sprinkling of Tenerife's scuba-diving clubs and schools around the island. For extensive listings by area, check out Tenerife's island government page, www.puntoinfo.idecnet.com, or www.oceandivingtenerife.com
Tenerife Scuba Diving Clubs & Schools:
Atlantik Dive Center - North
Hotel Maritim
Camino el Burgado 1
Puerto de la Cruz
(Tel) 922 36 28 01
www.scubacanarias.com
Atlantik Dive Center - South
Hotel Riu Adeje
c/ Moscú, s/n
Costa Adeje
(Tel) 922 71 79 11
www.scubacanarias.com
Diver City
C. Centro Playa Puerto Colón, 1
Playa de las Américas
Adeje
(Tel) 922 71 71 29
Barracuda
Playa Paraíso
Adeje
(Tel) 922 74 18 81
El Burgado
Edificio Neptuno
c/ Consuelo Alfonso Díaz Flores, 19
Abona (Arico)
(Tel) 922 78 59 10
Dessymar
Edif. El Chinchorro L - 6
Boris de Abona (Arico)
(Tel) 022 16 41 83
Dessymar
c/ Baltasar Nuñez, 16
La Laguna
(Tel) 922 26 41 85
Sibora Mar
c/ Isla de la Graciosa, 1
Los Silos
(Tel) 922 84 07 94
Hobby Sub
Dársen Pesquera
Santa Cruz
(Tel) 922 59 12 90