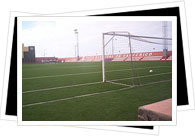 Anyone who understands a bit about Spain knows that football (soccer) isn't just a sport; it's a passion. Football fans eat, drink, breath and dream football during the season which, coincidentally, lasts for a pretty hefty chunk of the year. Whether packing into rowdy football stadiums and crowded bars, walking around town with a portable radio pressed to their ear or making it a house rule to never turn the television channel while a game is on, football fans aren't hard to find.
The Canary Islands have several football teams competing across the various divisions of the Spanish football scene. In Tenerife, the spotlight shines on the CD Tenerife - nicknamed the "Tete" - which plays for the Liga BBVA, Spain's second division. Proudly donning their team's colors of blue and white, the fans, known as the "chicharreros" (referring to the many "chicharros" - little fish - that Santa Cruz's fishermen ate during its days as a fishing village), turn out in droves to cheer their team on to victory.
There's nothing quite like a feisty Spanish football game, so if you're in Tenerife and looking for a memorable way to spend an evening, head to the CD Tenerife's stadium - Heliodoro Rodríguez López - in Santa Cruz for a game!
CD Tenerife Stadium & Contact Info
Heliodoro Rodríguez López
c/ Bernardino Semán
Santa Cruz, Tenerife
(Tel) 922 20 55 00
Club Website: www.clubdeportivotenerife.es