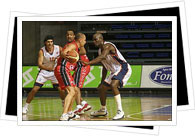 While football (soccer) essentially monopolizes Spain's competitive sports scene, the attention is starting to shift as these days basketball is certainly giving long-time favorite football a run for its money. The professional Spanish league is considered to be second only to the NBA; in fact, more and more Spanish basketball players - such as brothers Pau and Marc Gasol - are turning heads in the NBA each year.
There are various basketball teams dispersed throughout the Canary Islands, but in Tenerife basketball fans rally behind Tenerife Rural. The La Laguna-based team belongs to the LEB (Liga Española de Baloncesto - Spanish Basketball League), the professional Spanish league just under Spain's top division, the ACB.
The two 18-team leagues are undeniably interconnected. For example, both leagues were organized by the Federación Española de Baloncesto (Spanish Basketball Federation), play by the same FIBA rules and each year the leagues boast a new dynamic as the top two LEB teams ascend to the ACB while the two bottom ACB teams descend to the LEB.
To check out the Tenerife basketball team Tenerife Rural live and in action, head to the 5,100-seat Pabellón Santiago Martín. Depending on how picky you are with your seating, tickets will cost you anywhere between 5€ and 30€ and can be purchased either by calling the team's information number or, on game days, at the stadium itself.
Tenerife Basketball Contact Info:
Tenerife Baloncesto, SAD
Pabellón Santiago Martín
Los Majuelos, 38.108
La Laguna
(Tel) 922 82 40 10
Website: www.tenerifebaloncesto.com