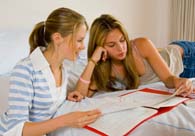 When you decide to learn Spanish in Tenerife at our partner school, you can also book your accommodation with us. We offer three housing possibilities to our students: host families, shared student apartments or private hotel rooms and apartments. All are located at no more than a 30-minute walk or commute from the school.
Host Family
Staying with a Spanish host family not only gives you a first-hand look at the Spanish culture and lifestyle, but also provides an aunthetic environment in which you can practice your Spanish skills!
Shared Student Apartment
If you want the opportunity to meet and live with other international students in an open, multicultural environment, then the shared student apartment option is just what you're looking for. Our flats, while not luxurious, are furnished and have a fully-stocked kitchen complete with a microwave, pans, cutlery and everything you might need to prepare your own meals.
Private Accommodation: Hotel, Hostel, Apartment...
Some students prefer - or are simply more accustomed to - a more private living arrangement. If you're interested in renting your own apartment or hotel room in Tenerife, we will be more than happy to help you in your search for one that matches up with your preferences: where you want to live, how much you want to spend, etc.